Srink Wrap Sealers
450IP (I -Bar Series)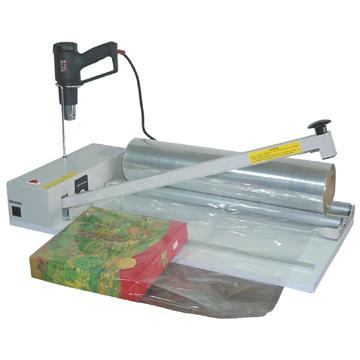 450SP (I -Bar Series)
Product ID: IP, SP
Professionally shrink wrap packages for just pennies per package. Simple three step operation. No warm up required. Enhance the appearance and value of your product, by protecting it against dirt, dust, moisture and handling. Sturdy industrial quality.
System includes: I Bar Sealer (300mm, 450mm, 600mm,800mm or 1000mm Lengths), timer, Film roll, outlet plug and spare kit.
Heat Gun and shrink film is option.
Specifications:
Economical Type
300SP, 450SP, 600SP
UL Approval Type
300IP, 450IP, 600IP
Largest Long Type
800IP, 1000IP
Features:
High quality sealing machine
Suitable for PVC, POF shrink films
See more complete detail
| Model | 300IP/300SP | 450IP/450SP | 600IP/600SP | 800IP | 1000IP |
| --- | --- | --- | --- | --- | --- |
| Max.Cutting Length | 330mm(13") | 450mm(18") | 600mm(24") | 800mm(32") | 1000mm(40") |
| Heat Timer | 1.0-3.0s | 1.0-3.0s | 1.0-3.0s | 1.0-3.0s | 1.0-3.0s |
| Watts | 250W | 350W | 450W | 700W | 800W |
| Size | 31*52*15cm | 31*63*15cm | 31*78*20cm | 31*98*25cm | 31*118*30cm |
Order Information:
Minimum Order: Negotiable
Branded Product, Buyer's Label Offered
FOB: Keelung, Taiwan
Hot Products