Constant auto sealers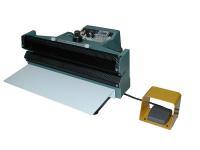 300CFA Constant Heat Sealer
Product ID: CFA,CSA
This special automatic constant heat sealer is excellent for sealing polycello
films, humidity proof cellophane film, polyethylene film, aluminum foil coated
bags and gusset bags. We offer mesh or straight-line texture of heater jaw.
The straight-line texture is especially recommend for health care industry.
The sealing pressure is over 0.7kg/cm2 and comply with ISO operation standard. Separate programmable timers for material thickness, sealing and operating cycle. Foot switch included for manual operation. Equipped with mask preventing scald. Hot stamp imprinter is optional.
Specifications:
200CFA,300CFA,400CFA,600CFA
200CFV,300CFV,400CFV,600CFV
Features:
High quality auto type sealing machine
Suitable for alum. bags, medical bags, special material bags
CE approved
Single seal type & Imprinter available
See more complete detail
| Model | 200CFA/CSA | 300CFA/CSA | 400CFA/CSA | 600CFA/CSA |
| --- | --- | --- | --- | --- |
| Sealing Length | 200mm(8") | 300mm(12") | 400mm(16") | 600mm(24") |
| Max.Seal Width | 10/15mm | 10/15mm | 10/15mm | 10/15mm |
| Heat Temp. | 30-200C | 30-200C | 30-200C | 30-200C |
| Watts | 250W | 350W | 420W | 540W |
Order Information:
Minimum Order: Negotiable
Branded Product, Buyer's Label Offered
FOB: Keelung, Taiwan
Hot Products