Constant Heat Foot Sealer with Adjustable Angle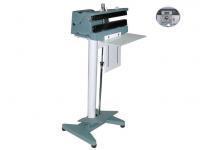 300CFTN Constant Heat Foot Sealers
Product ID: CFT
These special foot sealers are excellent for sealing polycello films, humidity-proof cellophane film, polyethylene film, aluminum foil coated bags and gusset bags. We offer mesh or straight-line texture of heater jaw. The straight-line texture is especially recommend for health care industry. "CFN" model equipped with Timing Light & Signal to notify operator that foot should be removed from pedal and sealing is complete. Each machine has new injection molded castings and electro static paint.
Hot stamp imprinter is optional. CFN type equipped with protection mask, it!|s more safty for user. Single heat type also
could advise, can be used on the special medical bags and bubble bags.
Specifications:
200CFT
300CFT
400CNT
600CFT
See more complete detail
| Model | 200CFT | 300CFT | 400CFT | 600CFT |
| --- | --- | --- | --- | --- |
| Sealing Length | 200mm(8") | 300mm(12") | 400mm(16") | 600mm(24") |
| Max.Seal Width | 10/15mm | 10/15mm | 10/15mm | 10/15mm |
| Heat Temp. | 30-200C | 30-200C | 30-200C | 30-200C |
| Watts | 250W | 350W | 420W | 540W |
Order Information:
Minimum Order: Negotiable
FOB: Keelung, Taiwan
Hot Products